A Green Entrepreneurs Europe (GEE) event was held, bringing together GEE students and teachers with inspiring speakers from Ford, GlaxoSmithKline (GSK) and Elder, sharing how their organisations incorporate sustainable production; embrace the circular economy and the highs and lows of real-life entrepreneurship. Students from Brampton Manor Academy and Roding Valley High School then presented their business ideas which had to incorporate the circular economy and 'lessons from nature' principles.
All groups received feedback and tips from our guests, who then had the difficult task of choosing a winning team. After much deliberation, Socology were chosen. A huge thank you and well done to Martin Tomkins from Ford and his two apprentices Melanie Morey and Adam Leonard; Pete Dowds from Elder and Pamela Stathaki and Luke Hedger from GSK as well as our partner schools: Brampton Manor Academy and Roding Valley High School.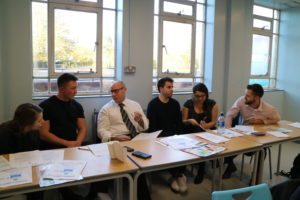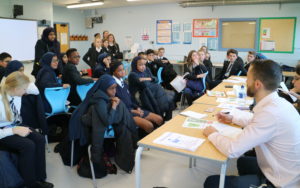 Guests from Ford, GalxoSmithKline and Elder discussing the students' inspirational presentations and giving them feedback.